MOVIES
A Devastating Depiction Of An Infamously Toxic Relationship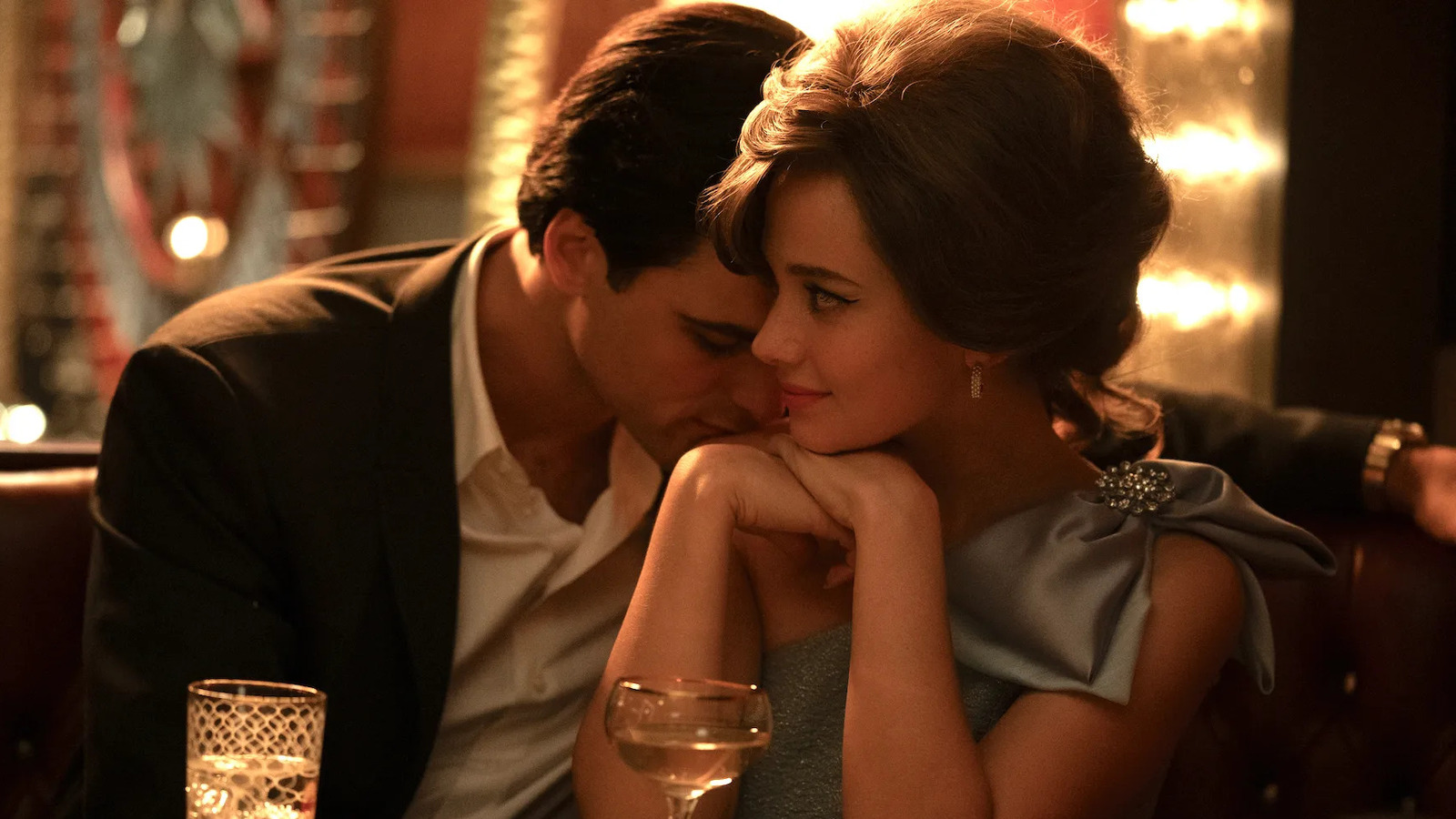 Priscilla Beaulieu (played here by the excellent Cailee Spaeny) was infamously just a teenager, fresh out of ninth grade, when she first met Elvis (Jacob Elordi) at a U.S. army base in Germany. As an impressionable young girl, she's coaxed to a party at his place by a local who promises her she'll meet one of her idols — the promise of meeting the King so alluring, it doesn't immediately register to anybody in her orbit as being adjacent to grooming. She is still in high school, as she soon tells Elvis, but he becomes smitten regardless. Although, Sofia Coppola's depiction of this suggests he's largely falling in love with the idea of someone who already idolizes him — he immediately asks her if the other kids at her school are still listening to his music. It's a hilariously pathetic moment, one of many that finds a dark, deadpan humor in an otherwise harrowing story about a power-imbalanced relationship — even if every laugh just accelerates the discomfort further.
If Baz Luhrmann's typically extravagant biopic from last year was about this larger-than-life talent, Coppola's film is the necessary addendum that fills in the blanks of his life away from his career highs. It becomes difficult to discuss a film in which his younger partner is centered, the drama viewed entirely through her eyes, without focusing entirely on him; he unwittingly strips Priscilla of her agency by making her pine for his return during the extended periods he spends away from Graceland, her personality defined by proximity to him in the public eye. The subjects of Coppola's films have long been women in the cultural spotlight, or those merely enraptured by the idea of celebrity, but I don't think any of her efforts to date have communicated the poisonous nature of fame to the extent that "Priscilla" manages. It's part of the reason why, I suspect, many critics have labeled this one of her coldest works to date — a surprise to me, as I found this to be one of her more accessible efforts, light on its feet without ever letting you forget just how disturbing every detail in this story is.
As the movie progresses, the director very consciously parallels her past work. Instructed not to leave the grounds of Graceland unaccompanied, it becomes a prison in the same way that the Palace of Versailles did for Marie Antoinette, a comparison Coppola draws out to the very end when she even echoes the final shot of her 2006 revisionist epic. Although successful on its own terms as a character study, thanks in no small part to the exemplary performances of Spaeny and Elordi, "Priscilla" is even better when viewed as a culmination of the themes the director has spent her entire career refining, never finding a better avatar to explore the dehumanizing nature of celebrity through than Priscilla.